Cocoa
Callipo Gelateria has selected a blend of the finest cocoa beans (22-24%) originating from Western Africa
Figs
Figs of Callipo Gelateria are the finest products of the Crati Valley, valued for their sweet and delicate pulp
Strawberry
Callipo Gelateria's strawberries originate from Italy and are ripened at the right stage of maturity, washed and turned into purea
Lemons
Callipo Gelateria selects Sicilian lemons that are particularly juicy and contain high quality essential oils and a remarkable amount of citric acid
High Quality Italian Fresh Milk
Callipo Gelateria only uses High Quality Italian fresh milk, produced by the main Italian farms, especially from Calabria
Pistachios
Pistachios used by Callipo Gelateria are characterized by their natural color and for being ripened to the warm sun of Sicily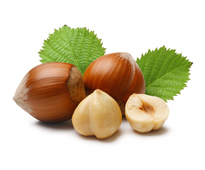 Hazelnuts
Callipo Gelateria's products are made exclusively with High Quality Italian hazelnuts, deeply roasted to enhance their flavor
Brittles
Prominent ingredients in brittles are Sicilian Pistachios, Italian Hazelnuts and Almonds, carefully selected within their lands of origin
Coffee
Callipo Gelateria has selected one of the finest quality coffee blends, characterized by the neat and typical aftertaste of Arabica and the good fragrance of Robusta
Sheep Ricotta
A typical quality product from Calabria, characterized by high nutritional properties, freshly processed to enhance the delicacy of the gelato.
Bergamot
Callipo Gelateria has selected bergamot for its gelato, a citrus mainly produced in Calabria and characterized by revitalizing properties, full of A, B, and C vitamins.
Limoncello
Limoncello used by Callipo Gelateria is the result of the alcoholic infusion of unprocessed lemon peel from lemons ripened under the warm Mediterranean sun.
Marsala D.O.C
Callipo Gelateria uses Marsala D.O.C., a liqueur wine produced in Sicily and characterized by a slightly sweet, but also rich and long-lasting taste.